Memories of the brutal execution of Daniel Pearl(a Wall Street Journal journalist who was kidnapped in Pakistan in January of 2002) started breathing in fresh air again as i was watching the latest movie "Mighty Heart". This one touched me so deep, as i was feeling that back in 2002 when these events took place, i already witnessed one side of it.
yes, it was early in 2002 when US armed forces announced the attack on iraq and our own news channel AAJTAK went live 24 hours to get us the updates running. There i was who used to switch on the TV for 2-3 times during the night to take break from my studies and watch every update. That was the time when one day Kidnap of Daniel Pearl was also a "breaking news" and as we were already witnessing allot of violence so it came up as just another news to me.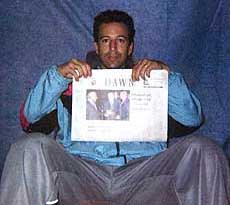 then as days passed the newspapers started flooding with the daniel's pics and his articles on jehadi groups and then came the news that they have killed daniel pearl. seeing that I myself was bad-mouthing these terrorist groups for killing an innocent journalist….and all this footage i saw as it was happenening.
with this movie i realized the other side of it…the suffering of daniel's pregnant wife Mariane…the way she handled the situation, their innocence, the fraud pakistani authorities did with them and every disturbing helpless elements of it.
i really feel that i takes a Mighty Heart for these journalists to get themselves into the most dangerous situations to get us the real piece of news and i think its not at all about their job or money but there is a certain level of madness and passion which makes them go beyond the limits and come out with something extra-ordinary. remember our very own Barkha Dutt who was present with soldiers in kargil or Aajtak crew(sorry not able to remem any name) who got us the live footage of iraq war.
A salute to Daniel Pearl, his family and likes of him !! (as for the movie…definitely a must watch..Angelina Jolie has done justice to the role…)